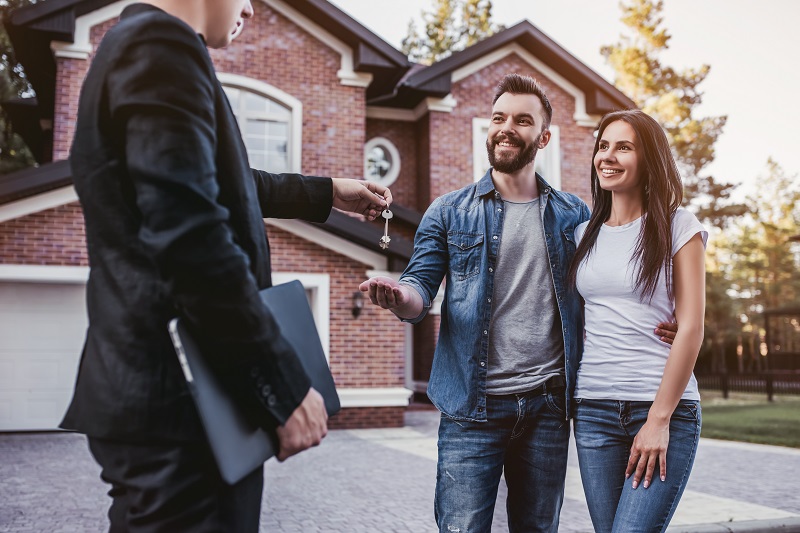 Buying a home can be incredibly stressful, and it has been made even more challenging due to Coronavirus. Therefore, sticking to specific guidelines can make the procedure a lot easier. Our estate agents have put together this timeline guide, so you have a better idea of what to expect.
The Timeline
Timescales vary hugely depending on the buyers and sellers' circumstances, but here is a rough guide.
6 – 8 months: discover a property, analyse the area, ask the opinion of estate agents and do your research on various websites. Once you've found somewhere you like, you can place an offer.
4 -12 weeks: you and your estate agent negotiate offers and then one is accepted, so it is time to check the condition of the property. In the meantime, your solicitor can review legal issues. You then pay your deposit but be aware that after this is paid you can't retract your offer without facing detrimental costs.
Instantly – 4 weeks: you pay the rest of the sum and gain access to the keys and deeds. The property now legally belongs to you, and you are the homeowner.
The Steps
Can you afford the property you wish to buy?
There is no point dreaming about a property if you are not sure if you can afford it or not. Avoid getting ahead of yourself by finding out how much you can afford before you start looking.
Locate and discover your dream home
This may be the most obvious step, but usually it's the hardest one. This step will involve speaking to a lot of estate agents, and conducting a lot of viewings.
Place the correct offer
It can be tempting to offer over the asking price if you are desperate to secure the home but remember not to spend more than you can afford, converse with your estate agent to settle on a reasonable price. Also ensure you get fixtures and fittings in writing. You don't want to end up receiving the keys to find the house has been stripped from all its basic fittings.
Your offer is accepted
Time for a mini celebration, but don't get your hopes up too much, there is still lots to secure, and the property is not contractually yours yet.
Watch out for any cheeky behaviour
The seller is not legally bound to sell the property to you until you have reached an exchange of contracts. Until you have reached this milestone, there is always a risk of being gazumped or gazangled. These are estate agent terms.
Gazumping: This is when another buyer offers more money than you, and your seller goes back on the deal.
Gazanging: This is when your seller decides to abort the sale and stay. This is often due to house prices going up which means they can make more if they stay decide to stay longer.
Sadly, there is not much you can do to avoid these, you will just have to hope and wait and ensure your estate agent keeps you updated.
Look for the ideal mortgage
Don't opt for the first one you find, and don't just go directly to your existing bank. Make sure you shop around for a range of options. Once you've found the mortgage you want, and you have applied, it can take anywhere from a couple of weeks to a month to get it offered, so be prepared to be patient.
Sort out conveyancing
Conveyancing is the legal process where a property is transferred from one person to another. Licensed conveyancers are expert property lawyers who do all the legal paperwork, Land Registry and local council searches, draft the contract and handle the transferring of money.
The property is checked by the lender
Once the agreement in principle is complete, the next stage is to convert it to a full application. This is where the lender makes sure they are satisfied to lend you the money, and that they are happy to lend it on that specific property you have chosen.
Solicitor searches
Whilst your mortgage application is being analysed by the lender, the solicitor will carry out certain searches including local authority searches, drainage searches and environmental searches.
Do a property survey
Once you are certain you have the funds needs you need to ensure the property is in adequate condition. You should always make sure this is done before the exchange. Your estate agents should be able to recommend a surveyor.
The mortgage offer is secured
If you have made it through all the steps so far, then you have reached another celebration point. You now have a formal offer that says the lender is happy to lend you the money to purchase the property.
Take care of building insurance
Once you have exchanged contracts you are legally obliged to purchase it, so it is better to not take unnecessary risks and take care of your building insurance.
Agree a completion date
This is the next step, your estate agent will negotiate between yourself and the seller's estate agent. Try to be flexible here as it is often difficult to find a date that suits both parties.
Give your solicitor your deposit money
When you are almost ready to exchange on contracts, you need to get your deposit money ready. The solicitor will also get you to sign the contract at this point, so this is when you commit to buying the vendor's house.
Swap signed copies of the contract with your solicitor
This is a huge milestone, there is now a legally binding contract between you and the seller, once this has happened you can't pull out.
Request a completion statement
Your solicitor will provide you with a completion statement with a clear summary of the money you need to give to your solicitor. This will consist of any outstanding depository, stamp duty, land tax and solicitors fees. Most of the time you have to pay these on or before the completion date.
More solicitor searches
Prior to completion the solicitor has to make sure that the seller still owns the property, and that you haven't been declared bankrupt since you made your mortgage offer.
Sign the transfer deed
Your solicitor will get the transfer deed ready. You need to sign the transfer deed and you need to be witnessed doing so. This confirms you are willing to receive full ownership of the property.
Your solicitor gets the funds from your lender
The solicitor now requests the mortgage money from your lender so that the payment has time to clear. This is the point you/ your solicitor actually gets the money from the mortgage lender.
Complete payment for the house
The solicitor will send the complete payment to the seller's solicitors and receive the title and deeds as proof.
Mission accomplished!
The keys are finally yours, now you can finally move in to your new home.
Pay stamp duty with the help of your solicitor
You have 14 days for your solicitor to send the Stamp Office your transfer deed and for you to make payment for the duty land tax.
Register ownership
Your solicitor will register your details with the Land Registry, you'll need to transfer them a fee to cover this.
Request the title deeds
Your solicitor will claim the new title deeds from the Land Registry and send them to your mortgage lender.